Programs and Services
Resource Assistance for Youth, Inc.
Basic Needs
If you need clothes or hygiene products, talk to the receptionist and they will send you down to see Steve. RaY's Basic Needs department has all the basic necessities available, free of charge. Showers and laundry are also available by appointment.
Contact:
Steve Wolfe: swolfe@rayinc.ca | 204-783-5617 ext 207
---
Housing
We can assist you in finding and/or maintaining housing, disputes with landlords, dealing with bed bugs, EIA advocacy, acquiring furnishings and a variety of other tenancy issues. Talk to Talia, Raven, or Skye.
Contact:
Talia Potash: tpotash@rayinc.ca
Raven Boulanger: rboulanger@rayinc.ca
Skye McKenzie: smckenzie@rayinc.ca
204-783-5617 ext 202
---
Growing Opportunities Employment and Training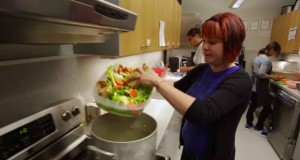 RaY's employment program, or "Grow-Ops", is youth-driven and can assist you no matter where you are at in your job readiness.  From obtaining a Social Insurance Number (SIN) to crafting a résumé to advice on employee/employer relationships or even re-entry to school and help getting your GED. RaY can prepare you for the job market with on-site paid training opportunities in our Kitchen, Retail, Custodian and Mover Training programs.  A variety of certification opportunities are also available through RaY. Talk to Monika Franklin-Bevan.
Contact:
Monika Franklin-Bevan: mfranklin-bevan@rayinc.ca | 204-783-5617 ext 208
---
Health and Wellness
If you're experiencing mental health or addictions issues, or just feel the need to talk to someone, Sam's doors are always open. They help make sense of the various treatment choices available and can offer guidance and support in what's to be expected. They are available as you require.
RaY also has a nurse practitioner available Tuesdays and Wednesdays for primary health care. No appointment is necessary, but spaces do fill up quickly so if you can call in advance, please do.
Contact:
Samara Prystenski: sprystenski@rayinc.ca | 204-783-5617 ext 203
---
Outreach
You may see our van driving around handing out sandwiches, condoms, information, water and warm wear. That's Scott, if you see him, wave him down and say, "Hi!". Scott's main goal is to connect youth to resources and to make sure they are safe on the streets.
Contact:
Scott McNicol: smcnicol@rayinc.ca | 204-783-5617 ext 202
Outreach Phone: 204-391-2209
---
Workshops and Outings
From time to time, RaY receives tickets to sporting, entertainment, and cultural events. We will always make every effort to include all interested youth. Should you make a commitment to be a dedicated youth participant volunteer at RaY, you can most definitely expect an opportunity to take part in an outing from time to time! RaY recognizes hard work and dedication!
Have a comment or suggestion for RaY? Contact Us: info@rayinc.ca
Make a donation today and help RaY provide resources to Winnipeg's street youth.